Gilles Chabenat & Jean-Marc Padovani
8pm, Monday

September

21st

'09
St. James Hall
3214 West 10th Avenue
at Trutch St. in Kitsilano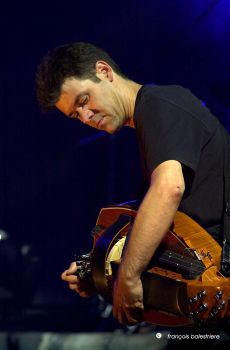 Born in 1963 at Lignières in Central France, Gilles Chabenat began playing the hurdy-gurdy at 13 with Les Thiaulins, an association devoted to folk arts and traditions. Following private lessons with Georges Simon, he won several music awards and subsequently devoted himself to his region's traditional repertoire with a desire to branch out into other musical styles. Around that time and after several years of research, luthier Denis Siorat developed an electro-acoustic instrument which facilitated the integration of the vielle a roue into the modern musical experience. In 1992, Gilles thus began a twelve-year partnership with the Corsican group I Muvrini. During that period, he met and worked with a number of artists, including Sting, Frédéric Paris, Alain Bonnin, and Gabriel Yacoub. He last played here in 2003 with Bonnin, a wonderful jazz pianist, at Capilano Performing Arts Theatre. He also works regularly with former Lo Jai piper Eric Montbel, Didier François (a nyckelharpa player,) and Patrick Bouffard.
Most recently, he has worked with jazz musicians such as renowned saxophonist Jean-Marc Padovani, who will join him tonight in this very special concert.
Gilles' musical experience and evolution are constantly shaped by the people he meets. In his approach to vielle playing, he draws essentially on the multifaceted nature of an instrument which has been in constant evolution for more than a thousand years.
Website: www.gilleschabenat.com