De Temps Antan
8pm, Thursday

October

1st

'09
St. James Hall
3214 West 10th Avenue
at Trutch St. in Kitsilano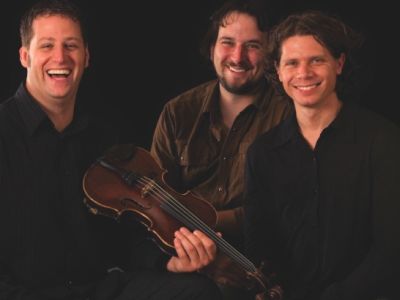 De Temps Antan is made up of André Brunet on fiddle (Grand Master of Canada fiddle champion! Stalwart member of the Celtic Fiddle Festival ensemble), Pierre-Luc Dupuis on accordion and vocals and Éric Beaudry on vocals, guitar and bouzouki. Together, these excellent and exuberant young musicians (all either current or former members of the Québec supergroup La Bottine Souriante) make up the extremely entertaining De Temps Antan.
The band's name means "Yesteryear", and they deliver a rich blend of traditional French-Canadian and Acadian songs as well as original compositions. The songs are interspersed with instrumentals and all are driven by the energetic beat of podo-rythme or foot percussion heard in the traditional music of Québec. In their twenties and thirties, the band members have been collecting old melodies and singing and playing tunes learned through an oral heritage that is still alive and thriving. They offer a fresh and vibrant perspective on the music of their ancestors and on the joie de vivre that has come to define the music of their province.
Steve saw them at the Folk Alliance Conference in Memphis in February, headlining a showcase of music from Quebec and Ontario. They were fabulous! Such power and drive, yet every nuance of every note is highlighted - even when they are playing those crooked reels at hyper-speed! De Temps Antan performed at Festival du Bois in March, and made their Rogue debut the following night. What a show they put on! Definitely the most powerful and exciting Québecois band we've heard in a long time. Maybe all time.
When we heard that they were coming back to perform with an orchestra to help celebrate the 100th anniversary of the founding of the French community of Maillardville in October we jumped at the chance to present them again at St. James Hall. Not to be missed!
Website: www.detempsantan.qc.ca