Foghorn Trio
(USA)
Anne Louise Genest & Friends

(YT)
8pm, Saturday

January

9th

2010
St. James Hall
3214 West 10th Avenue
at Trutch St. in Kitsilano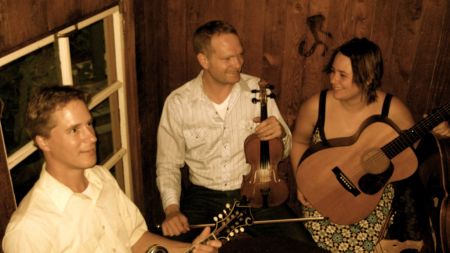 The Foghorn Trio is Caleb Klauder, Stephen "Sammy" Lind and Nadine Landry. Caleb Klauder and Stephen "Sammy" Lind have been playing together since 2000 with the Foghorn Stringband and many other musical endeavors including the Caleb Klauder Country Band, the Dirk Powell Band, Balfa Toujours and Going Across the Sea. The Foghorn Trio features Caleb and Sammy trading off on vocals, guitar, mandolin, fiddle and banjo with Nadine on vocals, guitar and upright bass.
The Foghorn Trio has performed traditional American Old Time music all over the globe. They have toured extensively throughout the US, the UK, Ireland, Denmark, Sweden and Malaysia; including the Tonder Music Festival, the Newport Folk Festival, the Rainforest World Music Festival, the Chicago Folk and Roots Festival and The Seattle Folk Life Festival.
Website: www.myspace.com/foghornstringband
Anne Louise Genest from Yukon is the singer and songwriter who leads the fine stringband Annie Lou. They put on an amazing performance at the Rogue in September as part of Yukonfest, and we are delighted to bring Anne Louise back. She will be accompanied by the Foghorn Trio on this occasion.
Website: www.myspace.com/annieloumusic
This concert is co-presented with the Pacific Bluegrass and Heritage Society.