La Musgaña
8pm, Sunday

February

4th

'07
St. James Hall
3214 West 10th Avenue
at Trutch St. in Kitsilano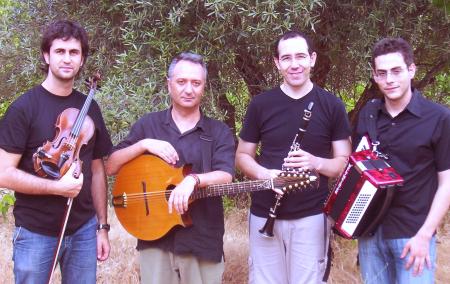 La Musgaña's music reflects the rich musical heritage of Castilla, the region to the north of Madrid, with influences from Europe, Africa, & the Atlantic coast. There are songs, airs, and sprightly dance tunes. The band comprises: Jaime Munoz (flutes, bagpipes, clarinet), Carlos Beceiro (cittern, guitar, hurdy gurdy), Diego Galaz (fiddle), Jorge Arribas (accordion), and Sebastian Rubio (percussion). This will be their first concert here since 1998. Their latest CD, "Temas Profanos", is stunning. Don't miss them!
Website: www.lamusgana.net
"La Musgaña's take on the folk music of central Spain is as old as the troubadors and as young as the electric guitar, airy stuff - fruited with exquisite melodies, freighted with melancholy and frenzied with irresistable rhythms." — Kevin R. Convey, Boston Herald
One could be forgiven for assuming that a night of Spanish music means flamenco-style guitar. Not so with central Spain's La Musgaña (translates to "the water rat")... this muskrat swims against the stream.
The members of La Musgaña researched the traditional instrumental music of Spain's Castillian region, and perform it on traditional instruments (bagpipes, wooden flutes and hurdy-gurdies) and then play it in a modern style by adding something contemporary: accordion, guitar, fiddle, and clarinet. They also incorporate influences of the many cultures that have left their mark on the region: there are North-African beats, European jazz, Celtic rhythms and hints of the Mediterranean. Add to that a passion and flair for performing and you're in for an unforgettable evening.
"Their style reminds me of the standing poles employed in some ritual dances, with coloured ribbons being woven around. Their music's orderly entwined polychromy revolves around their own roots, alternately exposing and veiling this rich legacy that is still very much alive in the true folklore of our country." — Joaquin Diaz
The band got their start in the late 80's, and their self-titled debut album won them the Spanish National Folk Award for young performers, propelling them through the ranks of Spanish music.
Their first North American release (their 3rd album Lubican) was put out by Green Linnet and brought them into the international spotlight. In 2004, the band suffered a tragic setback when Enrique Almendros, their pipe and tabor player, suffered a terrible stroke from which he still has not recovered. The band has since regrouped and is making their first appearance in Vancouver since 1998.