Malinky
8pm, Sunday

March

2nd

'08
St. James Hall
3214 West 10th Avenue
at Trutch St. in Kitsilano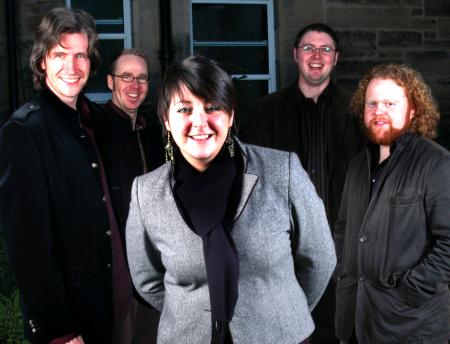 Malinky is one of those rare bands that can shine in both the vocal and instrumental arenas. While they have made a conscious decision that "the song's the thing", each member is an excellent player in their own right and the sensitive and arresting instrumental backing and tune sets are superb. They are one of the rare young bands that have decided to remain truly traditional, and interpretations of old songs form the bulk of their repertoire – even their original songs remain true to the idiom.
Malinky first emerged at Glasgow's Celtic Connections festival in 1999, as winners of a Danny Kyle Open Stage award. At a time when most new Scottish bands were focusing on instrumental sounds, their song-centred repertoire immediately marked them out from the crowd. Eight years later, they have undergone a few lineup changes - most notably the loss of singer and songwriter Karine Polwart – but are still going strong.
Today, the band comprises Fiona Hunter on vocals and cello, Steve Byrne on vocals, bouzouki, cittern and guitar, fiddler Jon Bews, Mark Dunlop on whistles, bodhrán, vocals and uilleann pipes, and their latest recruit, David Wood on guitar and bouzouki. Between the five of them, they share a diverse wealth of influences: Byrne's staunch affiliations with his native Angus region, Hunter's specialist interest in the songs of Scottish travellers, and the Antrim-born Dunlop's roots in Ulster tradition. As a former member of young Anglo-Scots/ Irish five piece CrossCurrent, Wood brings his extensive knowledge of traditions south of the border to the mix, and Bews, a stalwart of Edinburgh's lively session scene, has worked with artists as diverse as Basque singer-songwriter Mikel Urdangarin, and Fence Collective star James Yorkston.
"I think the key difference from when we started out is that everybody now has an equal part to play, so the way we work is much more cohesive and integrated," says Byrne of Malinky's sound today. Indeed, most bands would be more than happy with one lead singer to match the richly contrasting qualities of Hunter, Byrne or Dunlop, let alone all three. Small wonder that Living Tradition magazine described their third CD The Unseen Hours as "almost like getting several bands for the price of one." With recording on a fourth album scheduled to begin any day now, another headline date at Glasgow's Celtic Connections festival, and a North American tour right after that, their progress shows no sign of slowing. Don't miss their Vancouver debut at The Rogue!
Website: www.malinky.com
When lauded Scots band Malinky lost two of their members, including the superb singer and songwriter Karine Polwart, many wondered how, or even if, they'd survive. A little time has passed, and they've returned, sporting a pair of new faces, singer/cellist Fiona Hunter and multi-instrumentalist Ewan MacPherson. And in truth, they don't seem to have suffered at all. Hunter is a fine, expressive vocalist who brings a real warmth to the group, who show they're on form by immediately diving into an epic "Edom O Gordon", followed by "Clerk Saunders" and the Border ballad "Hughie the Graham", quite a chunk as an opening salvo. But they do it proud. The opener, along with "The Bonnie Banks O Fordie" (possibly the best cut here) have that slight Balkans feel that's one of their trademarks, while the others offer an understated power--indeed, there's a resignation about "Clerk Saunders" that brings a new shine to an old chestnut. They've certainly kept their instrumental chops, and flaunt them on "The Scotia Set" and "Inertia Reels" (which move in sprightly fashion). Canada's David Francey guests to good effect on his own "Flowers of Saskatchewan", proving again that he's a songwriter of startling brilliance. The original "The Sun's Cousin" doesn't fare quite as well as the rest of the material, but they close with a wistful "My Ain Countrie" that marks a loving end to a telling album. The new incarnation of Malinky is alive and doing very, very well.