Don Ross & Brooke Miller
8pm, Friday

November

30th

'07
St. James Hall
3214 West 10th Avenue
at Trutch St. in Kitsilano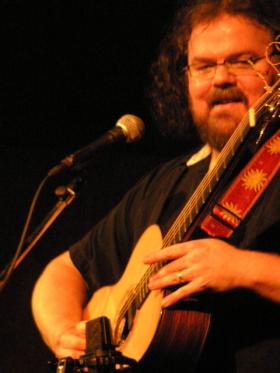 Don Ross has emerged as one of the most respected musicians in Canada and one of the top guitarists in the world. In September 1996, he managed to do what no other player has done: win the prestigious U.S. National Fingerstyle Guitar Championship for the second time (he first won in 1988). The competition, held yearly in Winfield, Kansas, cannot be won only with immaculate technique, but the player's music must also display a high degree of emotion and intensity — hallmarks of Don's style.
The son of a Scottish immigrant father and a Mi'kmaq aboriginal mother, Don was born in Montreal in 1960 into a musical family. He first started experimenting with the solo possibilities of the acoustic guitar at the age of eight. By age ten he was playing in alternate tunings and exploring "fingerstyle" technique, a right hand discipline similar to classical guitar playing. Preferring to write original music and develop a personal style, Don's self-taught journey on the instrument has encouraged him to follow his musical intuition. The result is an unclassifiable musical style that borrows from jazz, folk, rock and classical music. When asked, Don usually pigeonholes his music as "Heavy Wood"!
Website: www.gobyfish.com
Hailing from Prince Edward Island, 25 year-old Brooke Miller's brand of songwriting can best be described as "timeless." Harkening back to a sound once associated with the California "Laurel Canyon" Movement of the early 70's (by artists such as Joni Mitchell and Crosby Stills & Nash) along with East Coast singer-songwriters such as Carole King, Phoebe Snow and Maria Muldaur, Brooke's soothing voice bathes the listener in warmth and honey-like sweetness, while her lyrics paint vivid pictures of her life and experiences.
A compelling guitarist as well, Brooke's style of acoustic playing is clear and strong, a perfect harmonic compliment to her tone. A woman of substance and intelligence that belies her youth, with a musical message that is universal and defies categorization.
Website: www.brookemiller.ca