The Bills
8pm, Sunday

April

27th

'08
St. James Hall
3214 West 10th Avenue
at Trutch St. in Kitsilano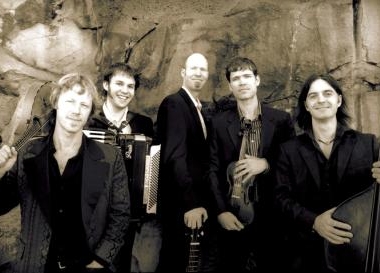 I first saw The Bills 8 years ago at The Railway Club, opening for The Clumsy Lovers. Far more interesting than the headliners, they stormed through an incredible repertoire of roots music styles ranging from Celtic to Balkan to Gypsy Jazz to calypso and latino music. On that tiny stage they managed some incredible choreography, too (they must be really good at Twister!) A year later they played the WISE Hall and were even better. We've been trying to bring them into a venue where people can dance ever since, but usually play at Cap College, which gives us a chance to relish their incredible musicianship.
Marc Atkinson is an amazing guitarist, but in The Bills he usually concentrates on mandolin. He's equally brilliant on that. Richard Moody is the latest "Bill Fiddle". He first played a Rogue gig with Acoustically Inclined in 1991. Richard comes from a very musical family - his sister, Ruth, is a Wailin' Jenny. He excels on fiddle and viola. The rhythm section is founded on Glen Manders on double bass – he heaves it around and around as if it weighed as little as a fiddle, while managing to anchor the band's sound with his rock solid playing. Has to be seen to be believed! Chris Frye is a very inventive rhythm guitarist and a great singer. In fact, the band's harmonies are exemplary.
And then there's Adrian Dolan. Unquestionably one of Canada's very finest fiddlers - this young man recently became a member of The Chieftains – he is also a fine accordion and piano player. I recall a time at Cap College, after a show, when he was playing the grand piano. He played so effortlessly and inventively, it seemed to me that he wasn't so much playing the piano as letting the music flow out of it. Music that had been long pent up inside it was pouring forth rapturously. He's not just a musician, more The Keeper of the Keys!
It's been a few years since they released their award-winning CD Let 'Em Run. Since then each member has pursued other projects. We jumped at the chance to bring them to the Rogue. I can think of no band in English Canada so versatile, brilliant, or entertaining. In fact, here's what the Glasgow Herald had to say about them: "The biggest blast of fresh air to come out of Canada since The Band" "Their sound is panoramic, mischievous, fiercely unpretentious - and musically splendid." Boston Globe "Sheer brilliance ... probably the best live act I have ever seen" Maverick Magazine (UK) I agree 100%
Website: www.thebills.ca