St. James Hall Elevator
The wheelchair lift at St. James hall will be out of commission effective May 19 for about 2 months, during which time there will not be any alternative to the stairs to access the concert hall. Call ahead to 604-739-9373 to find out the status of the elevator. Please accept our apologies for this temporary inconvenience.
Bellowhead
8pm, Monday

July

20th

'09
St. James Hall
3214 West 10th Avenue
at Trutch St. in Kitsilano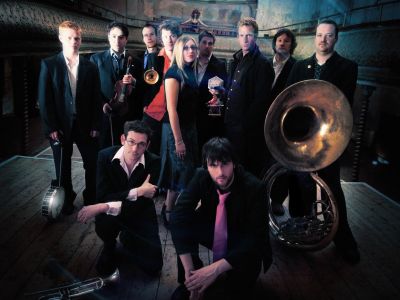 The rousing, sharp-suited Bellowhead were first unleashed onto an unsuspecting audience at the Oxford festival in April 2004, brought together by the award-winning duo Spiers and Boden. Their plan was to gather a talented collective of disparate musicians into a group capable of playing many styles, idioms and textures from around the world - big band to soul; jazz-funk to classical strings - yet retaining, at it's heart, an exquisite sensitivity to the essence of English traditional music. The band was an instant, riotous success and within a few months had already been voted Best Live Group in the 2005 BBC Folk Awards (they've since won twice again in 2007 and 2008). The response to 'E.P.onymous', their 5-track demo initially produced only to send to promoters was so great that public demand forced them to release it and it promptly received a 5 star review in MOJO.
2006 saw the release of their extraordinary, groundbreaking album, 'Burlesque', to universal critical acclaim, garnering awards and plaudits everywhere. 'Burlesque' was widely heralded as one of the most important folk recordings ever made and "its flowing stream of humour, intelligence, meticulous research, and free-ranging imagination" had fans and reviewers searching for ever-greater superlatives. At the end of 2006, Bellowhead further impressed when performing on BBC TV's 'Later with Jools Holland' wowing the audience and winning a host of new fans, including The Red Hot Chilli Peppers.
The band started 2007 in characteristic style winning 'Best Group' and 'Best Live Band' again at the BBC Radio 2 Folk Awards. After livening up proceedings with their show-stealing performances at the re-opening of London's Royal Festival Hall, the band spent the year honing the ever-increasing theatricality of their euphoric live shows touring the UK and at a series of major festival spots throughout Europe including The Big Chill, Glastonbury, Larmer Tree, Roskilde & Womad.
Voted 'Best Live Band' for an incredible 3rd time at the 2008 BBC Folk Awards, the year had already begun well for Bellowhead when they were further honoured by being asked to follow in the footsteps of Saint Etienne, becoming Band in Residence at London's Southbank Centre. 2008 also saw the release of 'Matachin', the eagerly-awaited new studio album on the Navigator Label.
Bellowhead is:
Jon Boden - vocals, fiddle, tambourine;
John Spiers - melodeon, concertina, bandoneon;
Benji Kirkpatrick - guitar, bouzouki;
Giles Lewin - fiddle, bagpipes;
Paul Sartin - fiddle, oboe;
Pete Flood - stomp box, percussion & tuned percussion;
Rachael McShane - cello, fiddle;
Justin Thurgur - trombone;
Andy Mellon - trumpet;
Gideon Juckes - Sousaphone, tuba;
Brendan Kelly - saxes
Website: www.bellowhead.co.uk
This promises to be one of the most incredible nights of music in the illustrious history not only of the Rogue Folk Club but of Vancouver itself. Not to be missed!!