Eric Bibb
8pm, Sunday

April

15th

'07
Capilano Performing Arts Theatre
2055 Purcell Way
North Vancouver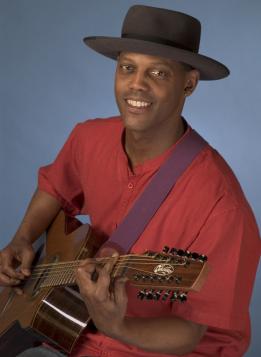 A performance by Eric Bibb is an enriching experience – both musically and spiritually. Purveying a beautifully realized and deftly accomplished, soulful and gospel infused, folk-blues, Bibb has no problem melding a traditional rootsy American style with a subtle contemporary sensibility. Bibb will perform tunes from his most excellent recent blues recording Diamond Days (Tel Arc Records).
Website: www.ericbibb.com
Eric Bibb is a musical troubadour who has travelled the world, enjoying success and pleasing audiences wherever he goes. He is a brilliant acoustic blues musician who has received a Grammy nomination and 4 WC Handy Award nominations for his solo recordings.
Eric is a native of New York with deep roots in the American blues and folk traditions. His father, Leon Bibb, is a trained singer who sang in musical theatre and made a name for himself on the 1960's New York folk scene. His uncle is the world famous jazz pianist and composer John Lewis, of the Modern Jazz Quartet. His godfather was singer/actor/activist Paul Robeson. Surrounded by major musical figures of the day, young Eric was inspired and influenced by Odetta, Richie Havens, Pete Seeger, Earl Robinson, Joan Baez, Bob Dylan and many others.
He was given his first steel stringed guitar at the age of seven. By 16 he was playing in the house band for his father's TV show. He later went on to immerse himself in pre-war blues guitar playing and songwriting, moved to Europe in his twenties and eventually settled in Sweden where a world music folk scene was emerging ahead of being marketed throughout the globe.
Eric's first album, Good Stuff, was released in 1997 and he quickly established himself as one of the great new blues and folk talents in the world. Since that time Eric Bibb has been around the world and back.
He's paid his dues and absorbed musical influences. Eric has played and recorded with many of the greats including: Pops and Mavis Staples, The Gospel Hummingbirds, Guy Davis, Taj Mahal, Linda Tillery, Maria Muldaur, Rory Block, Guy Davis, Ruthy Foster, Mamadou Diabate, and a special project "Family Affair" with his dad Leon Bibb, now one of Vancouver's most beloved musical entertainers.
Eric Bibb has just released his 14th recording, Diamond Days. Like a gumbo of various musical styles including Delta blues, gospel spirituals, folk and New Orleans R&B, Bibb has managed to cook up something all his own. "If one recording out of my entire catalogue were to be selected as a selfportrait, Diamond Days would be the most accurate." says Bibb. "I'm hitting my stride."