Stephen Fearing & Dave Gunning
8pm, Monday

February

16th

'09
St. James Hall
3214 West 10th Avenue
at Trutch St. in Kitsilano
Stephen Fearing has played at the Rogue many times since helping found the series back in 1987. With a Juno Award for his latest CD, Yellowjacket, he is clearly at the peak of his creative powers, and we are intrigued to discover the nature of his latest collaboration with Canadian songwriter Dave Gunning.
You can read all about Stephen Fearing, and keep up with his latest news on his regular blog on his website www.stephenfearing.com
"Dave Gunning is the next big thing in the True North of Song, an artist as compelling, as assured and attentive to every nuance of the writing and performing process as Lightfoot, Cockburn and Stan Rogers before him." — Toronto Star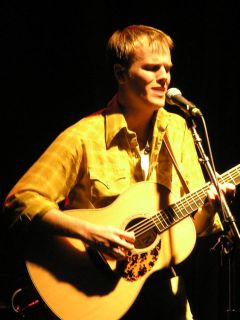 Dave Gunning has been acclaimed as one of Canada's best up-and-coming singer-songwriters. A charismatic performer, Dave is known for infusing his shows with his own brand of humourous tales and touching commentary on the everyday, bringing a new vibrance, energy and life to his heartfelt songs. Blending sensitive folk and innovative arrangements to his original and traditional songs, Gunning is rapidly building a solid audience fan base wherever he performs. Recently, picking up two 2008 East Coast Music Awards for Male Artist of the Year and Folk Recording of the Year for his sixth recording, "House For Sale", Gunning has solidified his place as a respected songwriter and performer.
Website: www.davegunning.com