Martin Hayes & Dennis Cahill
8pm, Thursday

February

5th

'09
St. James Hall
3214 West 10th Avenue
at Trutch St. in Kitsilano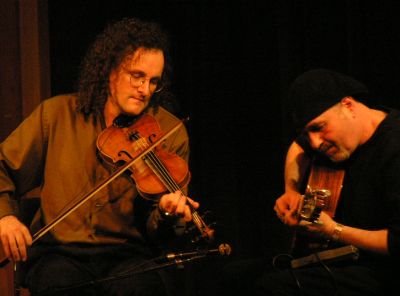 "The Co Clare musician imbues the traditional tunes of his native land with vast emotional depths and breadths, and dares a sparse, measured improvisatory approach. The high point is a slow air called The Dear Irish Boy, a frozen five minutes of superbly controlled tension." — London Sunday Times
Martin Hayes is regarded as one of the most extraordinary talents to emerge in the world of Irish traditional music. His unique sound, his mastery of his chosen instrument – the violin – his acknowledgement of the past and his shaping of the future of the music, combine to create an astonishing and formidable artistic intelligence. He is the recipient of major national and international awards: most recently the prestigious Gradam Ceoil, Musician of the Year 2008 from the Irish language television station TG 4; previously Man of the Year from the American Irish Historical Society; Folk Instrumentalist of the Year from BBC Radio; a National Entertainment Award (the Irish 'Grammy'); six All-Ireland fiddle championships - before the age of nineteen - and cited by the Irish Sunday Tribune as one of the hundred most influential Irish men and women in the fields of entertainment, politics and sports in the year 2000, as well as one of the most important musicians to come out of Ireland in the last fifty years.
He has recorded two acclaimed solo albums, "Martin Hayes" (1993) and "Under the Moon" (1995) on the Green Linnet label. Martin Hayes is the Artistic Director of the Masters of Tradition Festival held in August each year at Bantry House in Bantry, West Cork, where Ireland's most distinguished traditional musicians are invited to play in an exquisite chamber music setting. In January 2009, Martin Hayes will lead a group of Masters of Tradition musicians to the Sydney International Festival where they will perform at the Sydney Opera House for two nights.
Website: www.martinhayes.com
Dennis Cahill is a master guitarist, a native of Chicago born to parents from the Dingle Peninsula in County Kerry, Ireland. He studied at the city's prestigious Music College before becoming an active member of the local music scene. Cahill's spare, essential accompaniment to Martin Hayes' fiddle is acknowledged as a major breakthrough for guitar in the Irish tradition. In addition to his work with Martin, Dennis has performed with such renowned fiddlers as Liz Carroll, Eileen Ivers and Kevin Burke, as well as many Irish musicians on both sides of the Atlantic.
He is a sought after producer for musical artists whom he records in his own Chicago studio and is also an accomplished photographer. Taking full advantage of the Hayes and Cahill international travel opportunities, Dennis shoots photos that document both the backstage world as well as otherwise overlooked whimsical visual moments in rural villages, towns and cities, far and wide.
His photos can be viewed on his website: www.denniscahill.com
Martin Hayes and Dennis Cahill met in Chicago in the 1980s. They formed the jazz/rock/fusion band, Midnight Court, which allowed them to experiment with a variety of new music styles. When Martin reclaimed his traditional roots, reinvigorated, and after recording two solo albums, he began a new musical relationship with Cahill, beginning with the lyrical music of East Clare. They played long, sometimes thirty-minute, multi-tune sets in their concerts, starting from the simplest of melodies, building in intensity, but never abandoning musicality and ideas. Their touring schedule takes them to Australia, Japan, throughout Europe, the U.K. and Ireland, as well as the United States and Canada. They have also performed in Hong Kong, Beijing, Shanghai as well as Warsaw and Mexico City. In 1997 they released their first duet album, "The Lonesome Touch", followed by "Live in Seattle" in 1999. After a ten-year hiatus, in February 2008, Martin Hayes and Dennis Cahill released the studio album "Welcome Here Again." All are available on the Green Linnet label through Compass Records.