St. James Hall Elevator
The wheelchair lift at St. James hall will be out of commission effective May 19 for about 2 months, during which time there will not be any alternative to the stairs to access the concert hall. Call ahead to 604-739-9373 to find out the status of the elevator. Please accept our apologies for this temporary inconvenience.
Luka Bloom
8pm, Saturday

May

30th

'09
St. James Hall
3214 West 10th Avenue
at Trutch St. in Kitsilano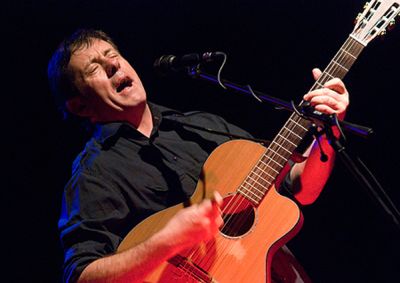 "His voice portrays someone who has found some big secrets somewhere near the bottom of the well, and the way he brings them to the surface is a true gift. Love isn't perfect, and would be boring if it were. But in the hands of Luka Bloom, love becomes real, an inspiring feeling that takes us to a place to call home." www.sonicboomers.com
"If you've been listening to acoustic music for the last 30 years or so and have somehow managed to escape the charms of Luka Bloom, there is a serious gap in your collection. As Irish as the Blarney Stone, Bloom doesn't play what could be strictly classified as Celtic music, although it certainly contains elements of the style. Bloom has always been more interested in the infinite variety that is possible at the crossroads of two or more genres; Celtic, Folk, Country, Pop, Gospel and anything else that presents itself. The end result has always come out uniquely identifiable as Bloom because of his percussive acoustic guitar style and his intensely personal songwriting." www.citybeat.com
The younger brother of influential Irish singer/songwriter Christy Moore, Barry Moore had tired of being in his brother's shadow when he decided to relocate to the United States in 1987. Re-christening himself Luka Bloom during the long flight, he took the first steps toward establishing his own reputation as a skilled guitarist and uplifting performer. Now, having trod the boards of stages all over the globe, 36 years of craft-honing has given Luka a secure place on the music map. His live performances are prolific and highly entertaining, featuring his distinctive "electro-acoustic" style of guitar playing. He is touring with a great new CD, Eleven Songs, It's the latest in a long line of superb albums, showcasing his rich vocals and deep love of life, the environment, peace, music, world travel, and, well, love.
Website: www.lukabloom.com