Mae Moore & Lester Quitzau
8pm, Friday

March

23rd

'07
WISE Hall
1882 Adanac Street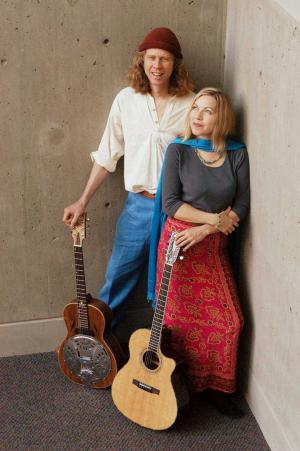 Spring must be just around the corner! Mae Moore & Lester Quitzau are two of the best roots musicians anywhere. The first time they performed together as a duo was opening for Taj Mahal in 2002. They received standing ovations. There was clearly electricity in the air. The lovely jazz-tinged voice of Mae and the acoustic bluesy guitar of Lester combine together into some of the sweetest music that you're ever likely to hear. Since then they have become partners both musically and romantically. They are married and live on Pender Island. The superb unplugged recording "Oh My!" is their first gift to us.
Websites: www.maemoore.com, www.lesterq.com
On nine original compositions (including two instrumental guitar duets) and two covers, Mae Moore and Lester Quitzau bring energy and intimacy as well as prodigious talents to their first joint CD. Quitzau's appealing baritone, well-suited to bluesy numbers like "Troubled Ways," and understated guitar and Dobro are a perfect match for the control, range, and versatility of Moore's lustrous vocals, which, especially on "Stepping Through Fire," bring Joni Mitchell to mind. Moore and Quitzau have made solo CDs of their own, but together they have something special. The vocal harmonies and sensitive guitar fills are downright exquisite on "Here and Gone," Tom Waits and Kathleen Brennan's "Hold On," and the bluesy version of Jimi Hendrix's "Little Wing," where Quitzau really soars.
"Mae Moore and Lester Quitzau make beautiful music together, each bringing out the latent sweetness in the other. The unadorned, homespun pleasures of their first collaborative project don't suffer in comparison to the jazztinged sophistication of Moore's recent solo work or the churning energy of Quitzau's electric bands; instead they testify that the warmth between these two can be successfully extended outward to their audience, and indeed to the world beyond." — Alex Varty, Georgia Straight
Guitarist and dobro player Lester Quitzau won a Juno Award for best Roots & Traditional Group with Tri Continental, his ongoing project with Bill Bourne and Madagascar Slim, and a Juno Nomination for Best Blues Record for his own "A Big Love".
Mae Moore is an acclaimed singer / songwriter whose music is a soulful blend of folk, pop and jazz. She got her start in the folk clubs and coffeehouses of southern Ontario before getting lots of attention in Vancouver clubs such as the Railway. Moore wrote the lyrics to "Heaven In Your Eyes" the hit song from the "Top Gun" soundtrack. Mae has released many successful albums since, and her single "Genuine" won a Socan Award for Most Radio Airplay.
"No competition. The award for Best Acoustic folk performance goes to Mae Moore." — Guitar Player Magazine
"Mae Moore soothingly caresses you, slowly seduces you in an engaging aural atmosphere." — The Irish Voice
All these awards and accolades are great, but listening to the songs on their "Oh My!" recording I get the feeling that what is more important for Mae and Lester is the healing power of love. Out of the blues and into the bliss. To be sure Quitzau lays down some of the most exquisite dobro/slide blues around on the instrumental "Compass" and his "Troubled Ways" sounds like a blues classic.
Together Mae "Honey" Moore and Lester Quitzau sing in a rich, warm harmony. Their music is as familiar and comforting as an evening relaxing with friends on the front porch in the summer. I can hear the crickets now. Come and lay your burden down. Don't miss this one!