Outlaw Social

CD Release with Redgrass
8pm, Friday

October

5th

'07
St. James Hall
3214 West 10th Avenue
at Trutch St. in Kitsilano
Outlaw Social is a five piece string band from Victoria. Their sound is unusually crafted by the combination of three lead vocalists, traditional string band instruments with electric guitar, and internationally known musicians. With the release of their debut CD, a seven song e.p., they've gained airplay and top twenty charting status on Canadian national community and campus radio charts, in additional to high praise from critics, promoters, audiences and peer musicians. This fine band brings innovative songwriting and exceptional singing and playing to every performance. Their repertoire includes beautifully constructed original songs set alongside traditional material reinterpreted in a modern folk style.
Website: www.outlawsocial.com
Adam Dobres (acoustic and electric guitars) had an eclectic musical upbringing. His grandfather was a master violinist, his father managed bands in England, and Adam started out playing jazz, before moving on to all forms of roots music. He's played with Daniel Lapp at Celtic Connections in Scotland, and toured with Ridley Bent. Catherine Black (banjo, bass, vocals) is a multi-instrumentalist who has played all kinds of venues from cathedrals to seedy bars. Oliver Swain (banjo, bass,vocals) hails from Winnipeg, where he was a member of The Duhks' predecessors, Scruj MacDuhk. He moved to Victoria and helped found The Bills. Kendel Carson (fiddle) is also a member of The Paperboys and is one of Canada's finest young fiddlers. Pharis Patenaude (guitar, vocals) writes many of the band's songs. She has sung everything from opera to country music. The band members first met years ago at kitchen jams and gigs with other musical partners, but late one night in the fall of 2004, Catherine and Pharis cornered Oliver in a bar - a week later, they had their first show in Victoria. As a trio, they whet their sound in Victoria bars, concerts, and theatres until late summer 2005, when Adam's amazingly tasty electric and acoustic guitars joined in; Kendel, a vibrantly "hell-raising fiddler," graced the group with her steel trap bow shortly after that.
The band made their Rogue debut last year, sharing the bill with Dyad. They stole the show, for me. Such powerful songs and voices, and exemplary musicianship. We are delighted to present the Vancouver Launch of their first full-length CD.
One of the big things that's happened in acoustic roots music in the last couple of years has been the revival of old time string band music, as evidenced by the popularity of groups like Old Crow Medicine Show, The Duhks, and The bills. Of course, this is not exactly the music of groups like the Skillet Lickers from the 20's and 30's, but it certainly pays tribute to the genre. This time around the young musicians playing this stuff are putting a more contemporary spin on it and including new original tunes along with some of the old time classics.
Outlaw Social hail from Victoria. They have been causing quite a stir on the Island. Their music calls upon three part harmonies, banjo, fiddle and guitar in order to present that old time sound. Bruce Hutchinson, the artistic director of the Islands Folk Festival describes their music as "... a very fresh sound that puts the good time in old time." Pirjo Raits of the Sooke News Mirror described them as "...young, energetic and incredibly talented musicians."
These people can flat out play and sing. I think that they are going places, and this should be one heckuva fine show.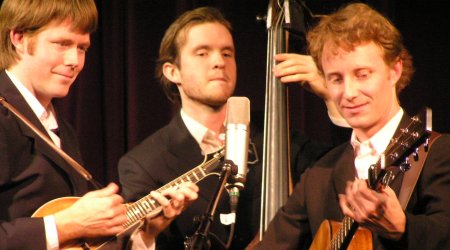 "Drawing on a wide range of bluegrass and old-time material Redgrass embodies the high lonesome sound made popular by the old brother duets. This trio's predilection for fast tempos and bluesy harmonies makes them an exciting act to hear live. Their quirky and original tunes come to life with Kris's honey-coloured rumble, Steve's fiery pickin' and Sean's relentless drive."
The Band is: Steve Charles: vocals, guitar, banjo - Kris Boyd: vocals, mandolin, guitar - Sean Cronin: vocals, bass.
Website: www.myspace.com/redgrassbluegrass