Look for our posters in bus shelters around town, designed by Canadian artist Michael Wrycraft, whose work graces many a CD sleeve. www.wrycraft.com
Festival Schedule
Saturday Apr 25
Workshops
Michael Gray
Violin/Fiddle Masterclass
5pm

Swing Dance Basics (tbc)

6pm

Concert

Van Django /
Pearl Django
8pm
Sunday Apr 25
Workshops
Michael Dunn
Rhythm Guitar Workshop
3:30pm
Budge Schachte
Guitar Workshop
5pm
Concert
Marc Atkinson Trio /
Hot Club of Mars /
Hot Club Sandwich
6:30pm
April in Paris: 3rd Annual Django Festival


Van Django

(BC)


Pearl Django

(USA)

8pm, Saturday

April

25th

'09

St. James Hall

3214 West 10th Avenue
at Trutch St. in Kitsilano
Welcome to April in Paris our annual celebration of Gypsy Jazz, the legacy of legendary manouche guitarist Django Reinhardt and jazz violinist Stephane Grappelli. The two teamed up in the 1930s to form the Quintet du Hot Club de France and defined a music and a romantic style that became a trademark image of Paris just as much as the Tour Eiffel itself. We will again have instructional workshops in gypsy swing rhythm guitar, improvisational guitar, gypsy fiddle styles, and swing dance. There will be a Parisian-style "bistro" offering sandwiches and truffles, and French wine and coffee. There'll be a slide show with scenes from Paris and previous editions of the festival. Please join us as we bring a large slice of Parisian music and style to the west side of Vancouver!
Five hot bands playing in two concerts which will each end with a once-in-a-lifetime jam session. There will be dancing throughout both shows. Rufus' Guitar Shop will have a display of guitars and related materials. And we will have more than just a taste of French food and wine, and as much Parisian spirit as we can find. It's a great way to thaw out after our long, cold winter. The blossoms are on the trees at last. Spring is in the air. It must be April In Paris!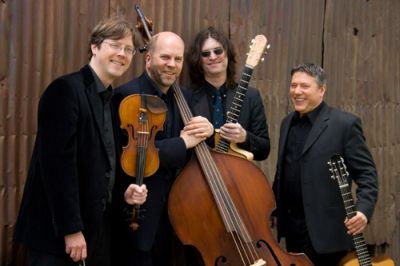 Van Django is an acoustic string ensemble whose music is well-rooted in the gypsy jazz of 1930's Paris, but beyond that it's all flights of dazzling fancy, driving rhythms and boundless creativity. The quartet was formed in 1998 and is made up of four of Canada's most talented and eclectic musicians- violinist Cameron Wilson, guitarist Budge Schachte, guitarist/cellist Finn Manniche and bassist Laurence Mollerup. The members have collectively played on over 30 feature film soundtracks as well as collaborations with well known Canadian and international music artists. They have been featured regularly on CBC radio and released their debut CD Tiptoe Trip in 2006. The group recently recorded their 2nd CD for release by the end of summer 2009.
Website: www.vandjango.com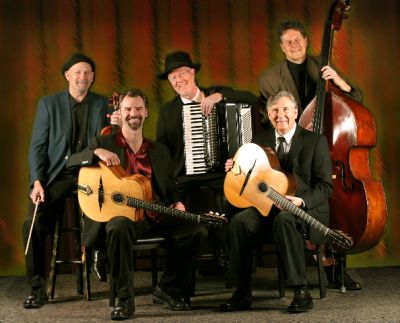 The focus of Pearl Django (Neil Andersson, Guitar; Ryan Hoffman, Guitar; David Lange, Accordion; Michael Gray, Violin; Rick Leppanen, Bass) is to blend the music of Django Reinhardt and Stephane Grappelli with American swing music. An interview on NPR's All Things Considered in 2001 brought the group to national attention, and in June 2002, they performed at the prestigious Festival Django Reinhardt in Samois sur Seine, just outside of Paris.
Voted favourite area jazz band 2003, by Seattle Weekly readers: "Pearl Django play(s) gypsy jazz...and they do it with such verve, skill and pleasure that they're pretty much irresistible to jazz and non-jazz listeners alike."
Website: www.pearldjango.com