"In case you haven't already found out, Plough has to postpone our CD release concert which was to be next Thursday night the 24th. We will reschedule and let you know. If you'd like to buy a CD in the meantime then please contact any of us and we can arrange to get you one or they will be available on CD Baby soon. Thanks for your understanding."
Plough

CD launch
8pm, Thursday

September

24th

'09
St. James Hall
3214 West 10th Avenue
at Trutch St. in Kitsilano
This concert has been cancelled.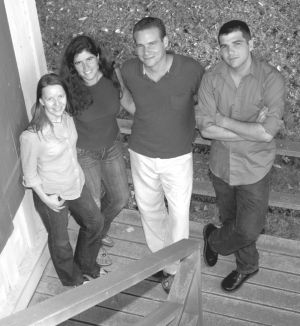 Imagine it's summer and you're sitting under a big old tree in the shade of the midday sun, enjoying the warm breeze. It's almost perfect. Then a "new-fangled old-time original roots music" band named Plough takes the stage in front of you and their music fills the air. Now - it is perfect!
Plough is formed by four young, but seasoned, players who each picked up new instruments in 2005, added their warm harmonies, and set down musical roots in the evolving Vancouver scene. They starred in the Whiskey Hollow Bound concerts, first at the Anza Club, and then twice more at St. James Hall. They stole the show at the Phil Thomas celebration concert at the end of 2007. CBC Canada Live recorded their excellent set at the Mission Folk Festival in 2008 - you can still hear it on CBC Radio 2's Concerts On Demand website.
Earlier this year they opened for Italian guitar master Beppe Gambetta at the Rogue. Plough are Linda Bull (who is also a member of The Maenads) on fiddle, banjo and vocals, Patrick Metzger (from Headwater) on upright bass, guitar and vocals, Karla Mundy (The Shirleys, Cleia, Mad Pudding etc.) on banjo and vocals, and James Scholl on guitar, upright bass and vocals. Their music is a compelling array of traditional and contemporary songs. Their vocals shine, occasionally acapella, more often in leads and duets. This concert marks the launch of their eponymous debut CD.
Website: www.myspace.com/ploughtheband