Weekend Pass $45
($40 members)
Allows access to all festival events except workshops. To purchase passes, contact the Rogue Office
604-732-1305
Passes will be available for pick up at Will-Call on Friday April 11th.
April in Paris: 2nd Annual Django Festival


Roma Swing Ensemble
Van Django

8pm, Friday

April

11th

'08

St. James Hall

3214 West 10th Avenue
at Trutch St. in Kitsilano
Before leaving his homeland, Lache Cercel was one of Romania's premier musicians and a recognized prodigy and virtuoso. His music is firmly rooted in Roma tradition and you can hear and feel the tragedy, history, struggle and spirit that make that music what it is. Mix it with jazz and glorious improvisations and you've got a performance you are unlikely to forget. Lache and his Roma Swing Ensemble represent the latest chapter in an important movement in Canadian World Music: elite musicians from around the world who settle in Canada and create music that incorporates their own musical traditions with the influences they find surrounding them.
Website: www.lachecercel.com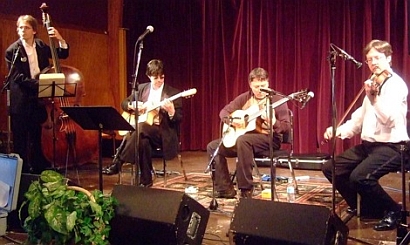 Van Django is made up of four extremely talented and eclectic musicians: Cameron Wilson on violin, Budge Schachte on guitar, Finn Manniche on guitar/cello and Laurence Mollerup on double bass. The music is unmistakenly Djangoesque, but you can expect a lot of postmodern musical paraphrasing thrown in for good measure (Smoke on the Caravan and I found a new baby in the Hall of the Mountain King spring to mind).
Website: www.vandjango.com