The Duhks
8pm, Wednesday

December

13th

'06
St. James Hall
3214 West 10th Avenue
at Trutch St. in Kitsilano
Read "Duhks get loose and groovy in the studio," an article by Alexander Varty.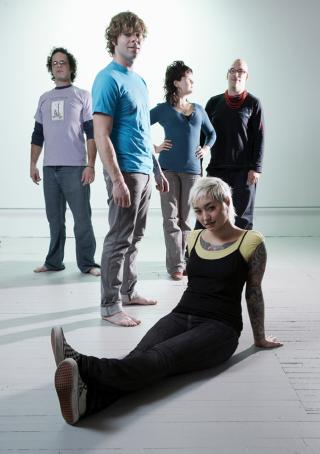 The most vital acoustic music being performed today acknowledges its predecessors and lives in the here and now. For four years now, The Duhks, the band of five skilled, high-energy, tattooed twenty-somethings from Winnipeg, has been riveting audiences and winning staunch fans across North America and around the world with just that kind of music.
Since the release of their self-titled, Bela Fleck-produced album in 2005, as well as the consequent re-release of their Canadian debut, Your Daughters and Your Sons, they've won admirers as diverse as David Crosby, Dolly Parton, and Doc Watson. This is not surprising, given their Duhks-alone blend of soul, gospel, North American folk, Brazilian samba, old time country string band, zydeco, and Irish dance music, and the attack they bring to these interwoven acoustic styles - which has all the energy of sheer rock and roll. Their unique sound has also earned them a Juno Award, two Folk Alliance awards, and an Americana Music Association nomination for Best Emerging Artists.
Today, all five Duhks, banjo man Leonard Podolak, lead singer Jessee Havey, fiddler-vocalist Tania Elizabeth, percussionist Scott Senor Senior, and guitarist-luthier Jordan McConnell speak easily of how they've grown together as musicians, and how second nature making the new CD proved. This despite the inevitable sophomore album situation - which found the band woodshedding in Winnipeg on few and far between breaks from touring rather than developing the new songs after long months on the road, as was the case with their earlier recordings.
The result is a breathtaking new CD, Migrations, on Sugar Hill Records. It was produced by Tim O'Brien and Gary Pacsoza and it's definitely their strongest album to date. This will be their first Vancouver gig for several years, and we are delighted to be able to bring them back at last. Don't miss this rare chance to see one of Canada's very best Roots bands in action!
Website: www.duhks.com