Willie & Lobo

Farewell Tour Part II
8pm, Friday

October

19th

'07
St. James Hall
3214 West 10th Avenue
at Trutch St. in Kitsilano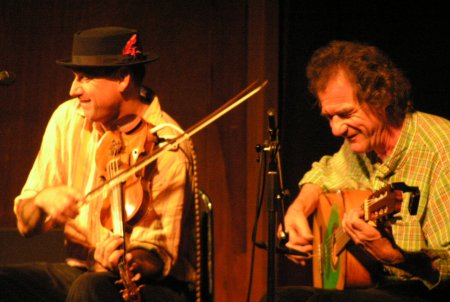 Willie Royal was born in El Paso, Texas, as the son of an Air Force lieutenant colonel, and was raised in such exotic locales as Turkey, Germany, France, and Florida. He began classical violin lessons at the age of eight, and became so proficient that he became concertmaster of his high school orchestra. Inspired by rock 'n' roll — as well as the violin-fuelled fusion of Jean-Luc Ponty, Stephane Grappelli, and It's A Beautiful Day — Royal rebelled against his formal training and started playing countryrock fiddle in a popular Florida-based band, while occasionally sitting in with Gregg Allman and Dickey Betts of the legendary Allman Brothers Band. Willie continued to absorb diverse musical styles — reggae, jazz, salsa — and soon set out on the road, playing in Europe, Canada, Brazil, and New Zealand, before settling in sunny Mexico in the early '80s.
Wolfgang "Lobo" Fink was born in the tiny Bavarian village of Teisendorf, halfway around the world from his musical partner. The 18-year-old Lobo first picked up his chosen instrument while serving as a signalman in the German navy. After hearing an album by gypsy guitarist Manitas de Plata, the young mariner discovered his affinity for the romantic, rhythmic music. After completing his term of service, he searched out de Plata, ultimately finding the guitarist residing in a gypsy camp in Southern France. Lobo spent a while with de Plata and his people, hanging out and absorbing the music.
After recording 10 stellar albums of their own style of distinctive gypsy-flamenco music, this pair are going their separate ways. Don't miss this duo!
Website: www.willieandlobo.com