De Temps Antan with Pastiche
8pm, Sunday

March

8th

'09
St. James Hall
3214 West 10th Avenue
at Trutch St. in Kitsilano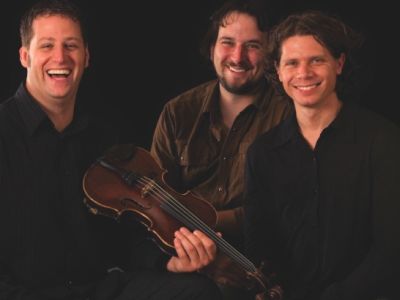 It's been a while since we heard the joyous sound of traditional quebequois music at the Rogue Folk Club... In fact, I think the last time was with Le Vent Du Nord in 2005!
Well, to break the drought, we've brought in some of the best in the business: André Brunet on fiddle (Grand Master of Canada fiddle champion! Stalwart member of the Celtic Fiddle Festival ensemble), Pierre-Luc Dupuis on accordion and vocals and Éric Beaudry on vocals, guitar and bouzouki. Together, these excellent and exuberant young musicians (all either current or former members of the quebec supergroup La Bottine Souriante) make up the extremely entertaining De Temps Antan.
The band's name means "Yesteryear", and they deliver a rich blend of traditional French-Canadian and Acadian songs as well as original compositions. The songs are interspersed with instrumentals and all are driven by the energetic beat of podorythmie or foot percussion heard in the traditional music of Québec. In their twenties and thirties, the band members have been collecting old melodies and singing and playing tunes learned through an oral heritage that is still alive and thriving. They offer a fresh and vibrant perspective on the music of their ancestors and on the joie de vivre that has come to defne the music of their province.
Steve saw them in Memphis the other week, headlining a showcase of music from Québec and Ontario. They were fabulous! Such power and drive, yet every nuance of every note is highlighted - even when they are playing those crooked reels at hyper-speed! De Temps Antan are performing at Festival du Bois this week.
Website: www.detempsantan.qc.ca
The opening set is a chance for Rogue members to see some of our favourite musicians in a whole new setting. Pastiche is a trio featuring Boris Favre, Alan Dionne and Cam Wilson - all former members of Celtic funk pioneers Mad Pudding, Boris & Allen also play in The Shona La Mottee Band, while Cam is a member of Van Django and Joe Trio. They are often augmented by fiddler Rich Sobel of The Sybaritic String Band - the Rogue's "house" contra dance combo. A prize to the first person to figure out how many times these guys have individually played the Rogue!
Pastiche artfully blends original material with traditional folk songs and tunes from France and Québec. And if you know these musicians at all, you won't be surprised to hear a lot of irregular rhythms, modern chording and complex arrangements. The result is a pastiche of infuences, both contemporary and past, which can best be described as "folk-nouveau."
website: www.pastiche.ca