Look for our posters in bus shelters around town, designed by Canadian artist Michael Wrycraft, whose work graces many a CD sleeve. www.wrycraft.com
Festival Schedule
Saturday Apr 25
Workshops
Michael Gray
Violin/Fiddle Masterclass
5pm

Swing Dance Basics (tbc)

6pm
Concert
Van Django /
Pearl Django
8pm
Sunday Apr 25
Workshops
Michael Dunn
Rhythm Guitar Workshop
3:30pm
Budge Schachte
Guitar Workshop
5pm

Concert

Marc Atkinson Trio /
Hot Club of Mars /
Hot Club Sandwich
6:30pm
April in Paris: 3rd Annual Django Festival
Marc Atkinson Trio

(BC)


Hot Club Sandwich

(USA)


Hot Club of Mars

(BC)
6:30pm, Sunday

April

26th

'09
St. James Hall
3214 West 10th Avenue
at Trutch St. in Kitsilano
Welcome to April in Paris our annual celebration of Gypsy Jazz, the legacy of legendary manouche guitarist Django Reinhardt and jazz violinist Stephane Grappelli. The two teamed up in the 1930s to form the Quintet du Hot Club de France and defined a music and a romantic style that became a trademark image of Paris just as much as the Tour Eiffel itself. We will again have instructional workshops in gypsy swing rhythm guitar, improvisational guitar, gypsy fiddle styles, and swing dance. There will be a Parisian-style "bistro" offering sandwiches and truffles, and French wine and coffee. There'll be a slide show with scenes from Paris and previous editions of the festival. Please join us as we bring a large slice of Parisian music and style to the west side of Vancouver!
Five hot bands playing in two concerts which will each end with a once-in-a-lifetime jam session. There will be dancing throughout both shows. Rufus' Guitar Shop will have a display of guitars and related materials. And we will have more than just a taste of French food and wine, and as much Parisian spirit as we can find. It's a great way to thaw out after our long, cold winter. The blossoms are on the trees at last. Spring is in the air. It must be April In Paris!
Marc Atkinson's compositions are punchy, driving and rhythmically inventive. They take the guitar beyond the usual repertoire and sound. The tunes have a fiery but elegant style, infused with a catchy blend of influences. All the while maintaining the laid-back humour and casual 'good time feel' of Canada's West Coast. His picking has been described as flawless, surprise-filled, sizzling and supremely melodic. His music is original, complex and challenging in its conception and delivery but remains accessible and absorbing. With Reuben Weir on rhythm and Glen Manders on bass, the music of this fine trio welcomes all listeners aboard for an intriguing, exhilarating and unforgettable ride.
Website:www.marcatkinson.com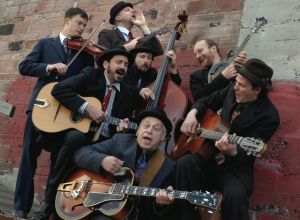 Seattle's Hot Club Sandwich brings its unique character to the acoustic swing and Gypsy jazz of the Hot Club of France. Order up! Gypsy jazz with everything on it, including humour. As the band's name suggests, this isn't just a recitation of the gospel according to Django. Rather, the group starts with classic jazz, and layers on a healthy spread of originals from several of the band's members. HCS is fronted by a three-guitar lineup, making it the Lynyrd Skynyrd of Gypsy jazz. Greg Ruby, Ray Wood, and Kevin Connor share rhythm and solo guitar duties. Their sound is rounded out by bassist James Schneider, mandolinist Matt Sircely, and violinist Tim Wetmiller. Green Room, the latest release from Hot Club Sandwich, is filled with blazing guitar passages, and equally stunning violin and mandolin spots as well, that will have you tapping your feet and groovin' to the melodies as much as you will be marvelling at the sheer musicality of it all.
Website: www.hotclubsandwich.com
Vancouver's Hot Club of Mars has been swinging for a few spins around the sun (a dozen earth years or so), though things really began heating up with the addition of chanteuse Deanna Knight. Adding a magic sparkle to the sound "D" writes tunes with as much pizzazz as when she delivers them! This high-energy acoustic 7-piece inspires toe tapping and dancing to some fabulous old Gypsy jazz tunes of the 20's, 30's and 40's. Bassist Charlie Knowles "kicks the cat" with finesse while guitarist Steve "Bugzy" Szabo keeps the rhythms chugging. Martian Ambassador Michael Dunn and recent arrival Don Kellett on lead guitars spin their sweet Djangoesque lines, and resident windgod Mark Dowding keeps those Martian desert winds blowing hot while the newest Martian import, violinist Tom Neville, channels the spirit of the late great Stephane Grappelli.
Website: www.hotclubofmars.com